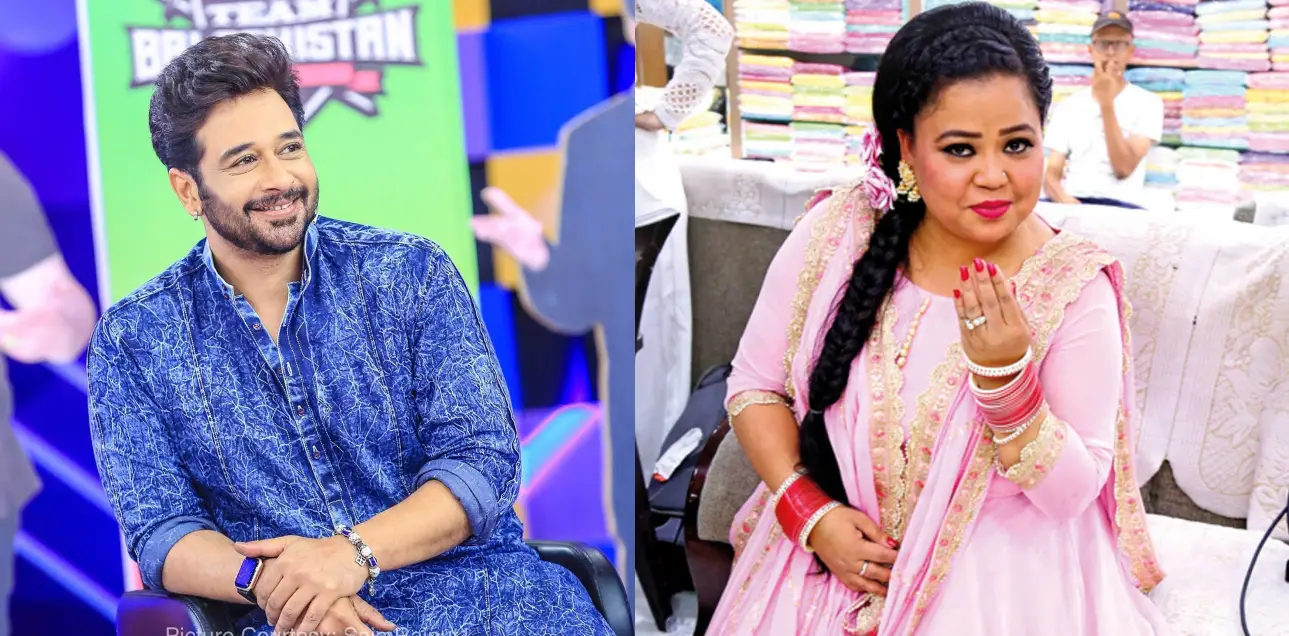 When it comes to relations between India and Pakistan, they are always tensed. But it is true when they say, art and creativity knows no bounds and recently the same has fallen true!
For instance, Indian Comedian Bharti Singh, is all praises for Actor Faysal Qureshi's new show, say, "Khush Raho Pakistan!"
Bharti Singh Wishes To all Pakistanis
Bharti Singh who is well known for her craft and comic timing is a popular standup comedian beyond borders. Recently in a video, she praised Actor Faysal Qureshi's new show 'Khush Raho Pakistan'.
In a now-viral video Bharti send all Pakistanis her love and well wishes.
She said, "I wish all Pakistanis who are a part of the global comedy family live happily and safely."
Actors across borders keep promoting friendship, love, and goodwill now and then. It is refreshing to see creativity and people attached to it soar about all the hatred and negativity.
The show in question is a game show hosted by Faysal Qureshi. It is considered to be a unique take on the run of the mill game shows usually conducted in Pakistan.
Well- Known comedians of the Neighboring country sent affectionate messages to their favorite contestants of 'Khush Raho Pakistan' which made a splash with Pakistan 2020 Cup.
One of the first stand-up comedians in India Johnny lever sent his best wishes to Amir Rambo and said that he is the wonderful artist and Johnny lever wants him to win.
Krushna Abhishek, extreme comedian and nephew of Bollywood super comedy movies' king Govinda, clap for Shakeel Siddiqui.
Comedian and laughter champion from Rajasthan, India Khayali Saharan is supporting Gilgit- Baltistan team.
Sunil Pal who is very good friend of king of comedy Shakeel Siddiqui sent his best wishes for him.
Famous for his satire comedy which is specially based on society and social issues Jaspal Bhatti also known as Raja with his comedy partner Rancho are wishing to participate in the game show 'Khush Raho Pakistan'.
Akesh Parth is all set to cheer for Team Punjab.
Ahsaan qureshi runner-up of The Great Indian Laughter Challenge in 2005 sent prayers and best wishes for players.
Vijay Ishwarlal Pawar famously known as VIP is positive for Shakeel Siddiqui's win.
Pakistani stage and television comedy actor Haneef Raja also sent his appreciation to the players and teams
Watch the whole Ramadan Happy Pakistan Twenty20 daily at 3:00 pm hosted by the Pakistani superstar Faysal Quraishi only on Bol Entertainment.
What's your Reaction?
Love
0%
Smile
0%
Haha
0%
Sad
0%
Star
0%
Weary
0%